Restaurants in Barcelona with unique interior
Satin and Slate Interiors
Today we are talking about our two favorite things: food and interior design! I recently went to Barcelona, Spain and the architecture as well as interior design had me in awe. There is such a variety of styles that combines to become beautiful chaos. Unlike in the United States, where utilitarian style seems to be of utmost importance with homes being mass produced and apartment buildings all looking the same. In Barcelona, the focus is on the details of the design that makes each and every building unique inside and out!
So we found 4 restaurants that are deserving of mention that just might inspire your next home improvement project.
La Dama
Designed by Masca Studio, this restaurant has a luxurious take on classical architecture. They wanted to incorporate the French cuisine into the design of the restaurant. The bistro-style atmosphere keeps it casual and cozy. A noticeable european style combined with the the modern elements of decor make it the perfect place to stop for a bite while on a european adventure, and maybe a cocktail or two.
Flash Flash 
Flash Flash was designed in the 1970's and the interior hasn't been touched since. The classic black and white theme gives the restaurant a timeless look. It is covered with figures of a famous fashion photographer, and part owner of the restaurant. The retro decor and timeless setting keeps the place bustling with people of all different ages. The menu may always be changing with the seasons, but the modern design is always up to date!
Ikibana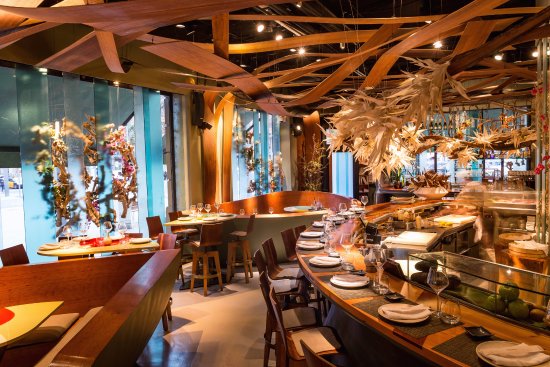 The word Ikibana is a Japanese floral arrangement meant for formal display with a specific purpose. This restaurant decor encompasses the combination of the excitement of Brazil and the tranquility of Japan. Created by Equipo Creativo, the architect wanted to represent three main elements in the interior: wood, color and organic elements. The floral arrangements are on display as if they are floating to represent the calmness of the cuisine. This restaurant is without a doubt a must see!
Opera Samfaina 
On of the most unique restaurant interiors in Barcelona has to be Opera Samfaina. Designed by the Roca brothers,  Each room has a different theme to give a multi-sensory space.  There are rooms designed with chairs on the celling to a room with a theme of Adam and Eve. Their purpose was to create visual poetry through their design. Eclectic and wacky, it is truly a unique experience.
If you have tried any of these places or have some others you want to mention, let us know! As always, be sure to follow us on instagram @satinandslate for more interior design inspiration!
https://www.satinandslateinteriors.com/wp-content/uploads/2018/09/Back-to-school_-Teacher-edition-2.png
756
945
Melitza Beltran
https://www.satinandslateinteriors.com/wp-content/uploads/2023/07/ss-5-500x500.png
Melitza Beltran
2018-09-06 15:47:19
2022-04-28 12:04:13
Restaurants in Barcelona with unique interior