Best Mid Century Modern Architecture in Palm Springs
Palm Springs is a Southern California vacation hotspot for many reasons, one of them being the fact that it is incredibly hot. Another, are the iconic, mid century modern homes artfully placed throughout the city.
Since the 1920's, progressive architects such as John Lautner and Donald Wexler, have designed sleek, low-lying and flat-roofed, modern homes that truly embrace the organic nature of the desert. This aesthetically driven architecture, now known as Desert Modernism, is inspired by the stunning surroundings of California's low desert.
Hollywood celebrities such as Frank Sinatra, Elvis Presley and many more would flock to the Coachella Valley in an effort to escape the paparazzi induced chaos found in Los Angeles, and called a few of the beauties on our list home away from "home".
#1 Elvis Presleys' "Honeymoon Hideaway" 1350 Ladera Cir, Palm Springs, CA 92262
Also referred to as, "Graceland West", Elvis and Priscilla Presley spent their honeymoon in this home that was named  "The House of Tomorrow" by Look Magazine in 1962. The spacious home sits at 5,000 square feet with a circular theme throughout each room. The Honeymoon Hideaway home is also one of the few celebrity estates in Palm Springs that allow tours inside of the home, as well as photo opportunities (without the flash, of course). If you love dynamic architecture, warm weather, and Elvis trivia as much as we do, this mid century treasure belongs at the top of your "to visit" list.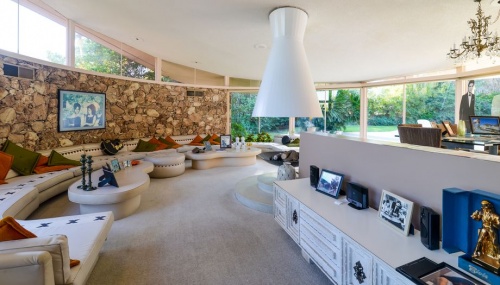 Photos Courtesy of Mary Kay Nibley, Rodeo Realty.
#2 Elrod House 2175 Southridge Dr, Palm Springs, CA 92264
This hillside home was built in 1969 by architect John Lautner, and was recently sold for nearly $8 million. What we love most about this estate is Lautner's ability to truly fuse the boulders within the building, showcasing an aspect of nature in an otherwise unnatural setting. We're also big fans of the pool's dual role of being an outdoor, yet indoor pool at the same time. The Coachella Valley view is not too bad either.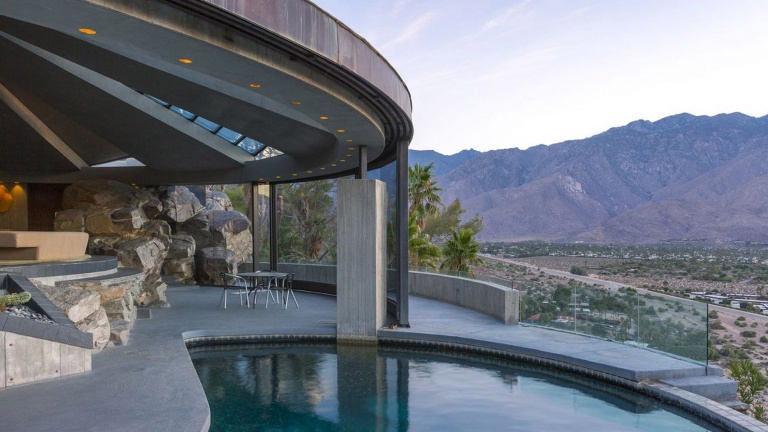 Photos Courtesy of Nelson-Moe Properties/Coldwell Banker Residential Brokerage.
#3 Sinatra's Twin Palms Estate 1145 E Vía Colusa, Palm Springs, CA 92262
We're nearly 3,000 miles from New York, New York, but Frank Sinatra still called this place home alongside his wife, Nancy. Built in 1947 by architect E. Stewart Williams, this estate featuring four bedrooms and seven bathrooms is actually available for rent for a casual $2,200 a night. Located in central Palm Springs near the Convention Center and Downtown, it sits just around the corner from residences once owned by stars such as Jack Benny and Cary Grant in the famous "Movie Colony" neighborhood of Palm Springs. Fun fact: The estate was built specifically for Sinatra and his wife, hence, the piano shaped pool.
Photos Courtesy of  Jeff Mindell.
#4 Kaufmann House 470 W Vista Chino, Palm Springs, CA 92262
Designed by architect Richard Neutra in 1946, it was one of his last large-commission projects, and arguably one of his most architecturally noteworthy homes. Originally from Austria, Neutra was heavily influenced by and worked briefly with architectural icon Frank Lloyd Wright. Built for Pittsburgh department store mogul, Edgar J. Kaufmann, Neutra's landscaping background allowed him to achieve this architectural jewel by connecting architecture with the exotic nature of his surroundings, creating a desert oasis for Kaufmann and his family.
Photos Courtesy of David Glomb.